Best Beat Making Software-BTV Solo Software Review Features Advantages
Do you really think that you need to have complicated and expensive equipment to produce beats? When I say "producing beats" or "making beats", I mean composing a full piece of music like a one man band.
Well, to answer the above question, beat making has come a long way. Now you can sit inside your small private room and compose professional level music and that too, without spending much money.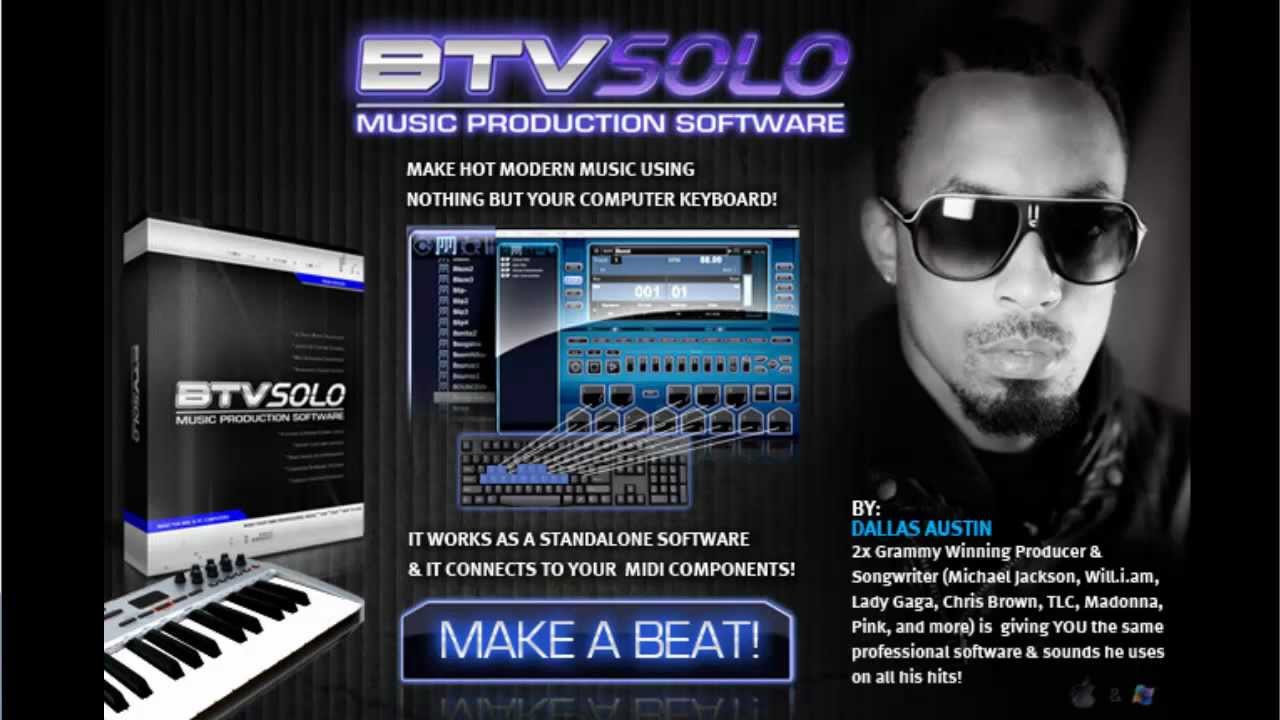 Truly, you can make good music for cheap!
All you need is a Computer!!!
BTV Solo Music Production Software
If you are already playing an instrument like guitar, imagine what kind of a tool you will have at you disposal. Sky is the limit. You can create drum beats, keyboard pieces, add other instrumental notes, percussion and so much more. You can do all this with your computer keyboard. All you need is to put in is a little imagination and time. Making beats or music is fun and addictive.
Here is a beat making software with a simple interface which beginners and advanced producers can use alike. This beat making software is called BTV Solo Music Production Software. The best part about this software is it is very much affordable and the best beat making software even for absolute beginners.
BTV Solo is an award winning music production software which you can use on your computer to produce music at your convenience.This software was created by Dallas Austin, an American record producer, songwriter and musician who has won 2 Grammy awards.
"I use this on every record that I make"
"You can arrange full songs with just your computer keyboard. You don't need any other controllers, any other drums, or any other virtual instruments. You can sequence here. You've got your sound banks here. You can mix here. It's everything you need to get started and go a long way!"
-Dallas Austin, 2X Grammy Winning Artist, Songwriter, Producer and Senior Vice President, A&R for Island Records
Your music can become the next big thing! All you need to do is to express yourself via technology.
Why you should buy this software?
Features and Advantages of BTV Solo:
BTV Solo can be used as a standalone application or with other DAWs for making beats like VST or AU.
1. Create Full Songs In Minutes:
You can use your computer keyboard to create beats quickly or you can plugin your MIDI keyboard.
2. 16 Track Sequencer:
A great platform to experiment different instruments and sounds. Not bad for a software which is so very affordable.
3. Professional Music Creation:
You can create radio ready songs with intros, verses and choruses. You can customize anything. Edit existing kits, edit your patterns, record new samples and what not.
4. Sound Library:
You can use your own samples or use samples from the library which comes with the software.
5. Export Your Music Easily:
You can export single tracks as well.
6. Power Packed Royalty Free Music Library:
1,000 samples & synths, 50 premium drum and percussion kits, 50 premium acoustic and electric playable instruments, and 50 professionally engineered preset patterns.
7. Professional Training Videos:
If you are serious about making beats, then you have professional help in the form of high quality training videos which cover all the features on the software.
8. Two Licenses:
Once you purchase the software, you can use BTV solo on two computers. Imagine you working with another friend of yours!
9. Updates for life:
You purchase the software once and you are set for life. Yeah!!!. You get all the updates and added features for free for life.
10. Affordable:
If you are a beginner, then you wouldn't want to spend money on complicated equipment and applications. This professional software is best Value for you money. Never before has anyone developed such an amazing and affordable software which can produce professional music.
Minimum System Requirements
BTV Software works equally well on both Mac and PC
MAC
Intel-based MACs only
1GB RAM or greater
OSX 10.7 or higher
800MB free space on OS drive
WINDOWS
Pentium 4 or greater1
GB RAM or greater
Windows 8, 7, 9,10, Vista, and XP (SP2 Recommended)
2 GHz (or greater)
900MB free space on OS driv
What others have to say about this software:
"This is the future…"
Teddy Riley, Artist, Songwriter, and Producer: Blackstreet, Robin Thicke, Lady Gaga, Michael Jackson, DJ Quik, Snoop Dogg. Boyz II Men et al.
"This is for real."
"What you have here… is something that you haven't seen before. This is for real. You're going to hear a lot more about it."
Commissioner Gordon, Multiple Grammy Winning Engineer/Mixer: The Roots, Lauren Hill, Damien Marley, et al
The biggest assurance is the 60 day money back guarantee. Yeah, if you are not satisfied with the software, your money will be returned in full! Believe me 60 days is a long time. I am pretty sure you will be hooked to software.
How to buy this software?
Simply click on the link below and you will be directly take to the software page. You can also enjoy a discount of 15%.
Do not let your music trapped within you. Express it through BTV Solo. Become the next big thing!
"Thousands of Artists, Producers, And DJs In 35 Countries Love, Trust, And Use BTV Software."